FEES
Estate Plans
Plan Prices Summary
---
Estate Plan Prices
Fancy: $5,000 (Couple) $3,000 (Individual)
Classic: $3,500 (Couple); $2,200 (Individual)
Classic Jr.: $2,800 (Couple); $1,500 (Individual)
Insurance Plans
"Covered in Full" Benefit: ~$300 (Couple); ~$225 (Individual)
"Will Only" Plan: $1250 (Couple); $950 (Individual) + Filing Fees ~ ($150)
Amendments and Restatements
Our Prior Clients: $500 (unless more than two meetings, then price below)
Classic: $2,500 (Couple); $1,500 (Individual)
Classic Jr.: $2,000 (Couple); $1,000 (Individual)
---
Insurance Covered Plans
---
For all insurance plans, the property recording, and notary fees are not covered by insurance. The fee structure is as follows:
The property recording fee is

$150 dollars

and

notary fees are $15 per signature.

In most cases, those fees total

$225 for an individual

and

$300 for a couple.

If you have a

"will only"

plan you will also pay the fee to add a trust which is

$1250 for a couple

and

$950 for an individual.
---
Amendments and Restatements
---
The fee for an amendment or restatement of an estate plan drafted by Summerall Law is $500 unless it takes more than two meetings, and then we go to the prices below.
Classic:

$2,500 for a couple

and

$1,500 for an individual.

Classic Jr. :

$2,000 for a couple

and

$1,000 for an individual.

(second meeting with junior attorney)
---
More Information About Plan Options
---
Classic Plan
All Estate Plan packages include a Living Trust, Certificate of Trust, Deed, Will(s), Power of Attorney(s), Advance Health Care Directive(s), Guardianship Nomination, and Power of Attorney over Child Care, and a Caregiver Affidavit. Recording of the deed for your residence and Special Needs Trusts are included at no additional fee if needed.
Classic Estate Plan Jr.
This is the same as the Classic Plan, but the client opts to do their final meeting with an associate attorney, which reduces the price.
Fancy Plans
This plan is for people who have lots of stuff and need some extra documents to make their plan work. This plan includes the documents in the Classic Plan, plus a transmutation agreement (Post-Marital Agreement), a co-habitation agreement, as many deeds as you need, separate property trusts (for inherited property or property you are leaving directly to someone other than your spouse), and any othe trusts or sub-trusts you need.
This is best for clients who:
Have inherited property who they want to leave to someone other than their spouse

Own many pieces of real property

Have separate property and community property and we need to clear up who owns what

Own property with a non-marital partner

Ex: We got married later in life. I have some property I owned individually, I want to leave that to my child. My spouse and I own some property together, but we are not both on title, I have a rental, he has a rental, and he has a mom who needs a separate sub-trust for her care. We want restrictions on what the surviving spouse can do with the property we own together.
---
---
Probate Administration
Overview
---
Probate fees are set by statute and most attorneys will only work for statutory fees outlined below. We will negotiate from other attorneys/statutory rates for simple estates as follows:
One Beneficiary=

$7500 plus costs

Large Estate Maximum Fees =

$20,000 max

(i.e. arrange for a maximum fee of $20,000 on million dollar probate)
Simple Administration =

10% off statutory fees
What is a Simple Estate?
A simple estate means the beneficairies and service providers all worked together to make for a more efficient process. We will determine if your estate was simple, at the end of the process, based on the administrator and families compliance with the following:
No contests

to will, trust, executor, distribution, or accounting.
Worked with one of our

approved real estate agents

or an agent that complies with our work terms.
Worked with one of our

approved accountants

or an accoutnant that complies with our work terms.
Client collected all financial assets.
There are also costs to a probate which include filing fees, probate referee fees, and publication fees. The fees usually that total about twenty-five hundred dollars ($2,500) per case. These are paid directly to the court.
---
The Math
---
California law says that the way to calculate the compensation the attorney receives for their time on a probate administration is based on the following fee schedule: (1) Four percent on the first one hundred thousand dollars ($100,000). (2) Three percent on the next one hundred thousand dollars ($100,000). (3) Two percent on the next eight hundred thousand dollars ($800,000). (4) One percent on the next nine million dollars ($9,000,000). (5) One-half of 1 percent on the next fifteen million dollars ($15,000,000).
---
The Bottom Line
---
In simplified terms this means, for a million-dollar estate, the probate fees and costs will be approximately $26,000. For a five hundred-thousand-dollar estate, the fees and costs will be approximately $15,500. These fees are paid by the estate and the personal representative does not need to have funds to start a case.
---
Quick Probate Fees and Costs Calculation
---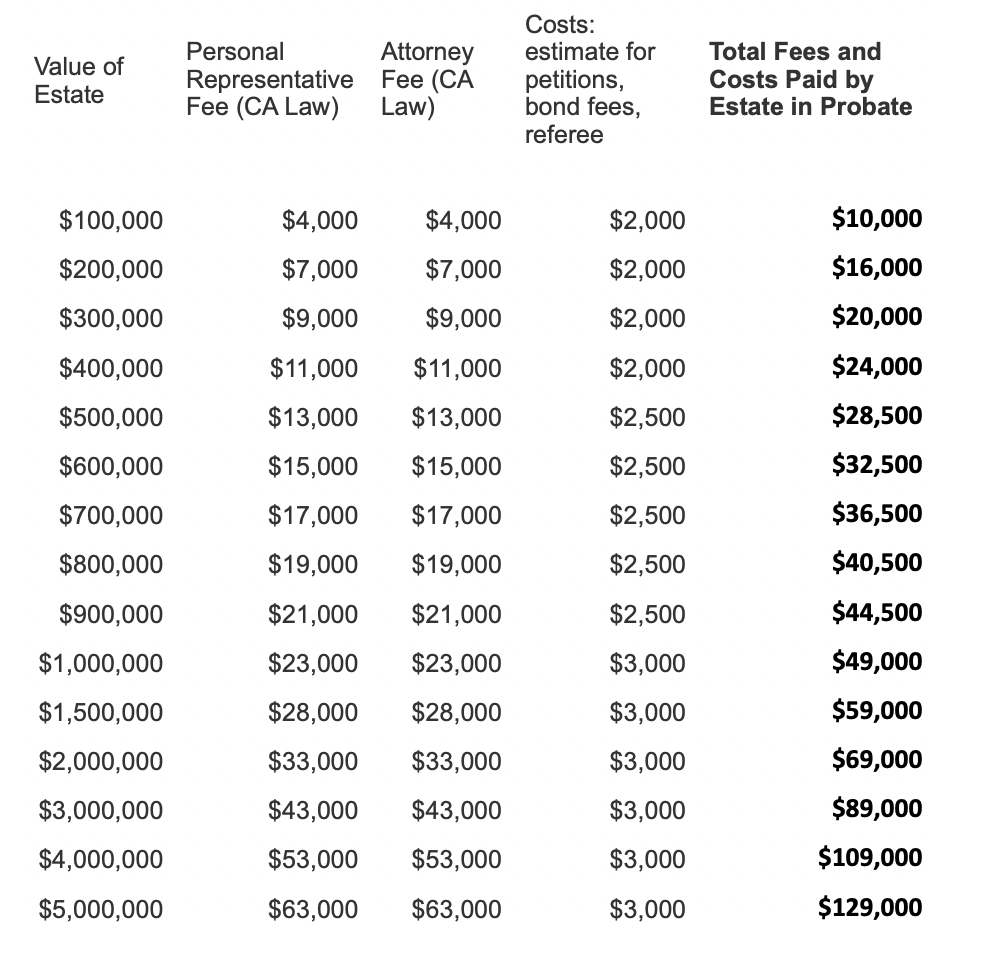 ---
---
Trust Administration
Administration Fees
---
Our average trust administration fee is $4,000. For single beneficairy or cash only administrations, we have flat-fee service of $2,500. We divide work between attorneys and paralegals to keep the total fee low. Total fees are based on the complexity of your matter, including the type of assets involved and number of beneficiaries.
---
---
Litigation & Mediation Services
Litigation and Mediation Services: Stolen property, elder abuse, will contests, having a will or trust declared invalid, etc.:
---
This involves negotiating a solution before court or pursuing your matter through the courts.
The majority of these matters are based on a contingency fee schedule starting at 10% of the recovery and escalating to 40% of the recovery based on the time and number of court proceedings it takes to resolve the matter.
Summerall Law pays the costs up-front and is reimbursed if you recover.
You pay nothing if you do not recover any assets.
---
Petitions: Trustee removal, requesting an accounting from a trustee, having a trustee appointed, having an asset declared trust property, etc.
---
Most petitions are a flat fee of $4,000 for attorneys' fees + the $500 filing fee charged by the court.
---
What Type of Fee Structure is Best for My Case?
---
Contingency Fees
Contingency fee structures tend to work well for clients who are not sure if they are going to win their case – the result is not certain or reasonably certain. They may get money out of the case and they may not. In these circumstances, if we think it is likely enough that it is worth trying, then we will offer to take the case on a contingency fee basis. If the client does not get money, they do not owe us anything. If they do get money, then we collect a fee. We pay the costs on these types of cases and the clients pay us back if they get money. Here is an example of why a client might decide to hire us on a contingency basis:
The problem: Mom added her daughter to the deed of her $600,000 house based on that child promising to split the house with mom's son after mom passed away. Mom passed away and now daughter won't share the house with son. Mom didn't have a will or trust or anything written down that said what she wanted.

For the son to get part of the house he needs a lawyer to convince a court that what mom really wanted was for the kids to share the house. Because the only legal document that exists for the court to look at is the deed to the house that only has sister's name on it the court may decide that the sister owns the house. It will take time and money to gather all the other evidence about ownership to present to the court son's argument about what the mom wanted (research, drafting and filing court documents, interviewing family, deposition fees, filing fees, subpoenaing documents, etc.)
The client has two options: (1) If son pays us based on hourly billing rates, son may run up $50,000 in fees and costs only to have the court decide the other sibling gets the house or (2) If son hires us based on a contingency fee structure, son doesn't have to pay anything if son doesn't get part of the house. If the court decides the siblings have to split the house (so the each get about $300,000) then the attorney gets 30% of that which is $90,000.
Why should the attorney get more based on contingency fees? Because the attorney is assuming the risk of having to pay all the fees and not getting anything for all the time they spent if the court decides for the sister. In either structure the side that takes the most risk gets the most money. If the client wants to pay hourly and take the risk of getting nothing, they get more. If the attorney pays up front with their time and money and takes the risk of getting nothing more, they get more.
Often in these cases the client will chose the contingency fee options so they do not have to be worried about paying for legal services that did not result in them getting that money back.
Hourly Fees
If the client is enforcing a certain legal right such as the right to receive an accounting as a beneficiary under a trust, then it usually makes sense for those clients to pay hourly. These cases are not about "maybe I will win and maybe I will lose," they are focused on process and procedure – removing a trustee for failure to distribute an asset, appointing a trustee under a trust when there is a vacancy, transferring property to a trust that was not titled in the name of the trust. Etc.
Our standard hourly rate is $400 per hour for attorneys and $150 for paralegals. Most petitions we bill as a flat fee of $4,000 unless it turns into litigation that takes more than 15 hours of attorney time.
Mixed Hourly and Contingent
If the outcome is certain but clients don't have the money to pay up-front on an hourly basis we can work out a solution. A mixed fee structure could include a contingency fee structure where the attorney takes a lower percentage because there is less risk involved, or we can negotiate a fixed-fee. Examples of cases where this structure works include challenges to the way a trustee is doing their job.
If you would like us to review a trust created by a different attorney and advise you on potential issues with the trust, our fee is $500. Many clients use this option to understand the trust of a parent or family member that impacts them. The fee includes a review of the trust and a 60-minute meeting between attorney and client to highlight issues with the trust. The trust should be provided in advance. If the client (or their parents) elect to engage Summerall Law to restate the trust their trust then the Trust Review fee is waived.
---
---