FEES
Estate Plans
Plan Prices Summary
---
Estate Plan Prices
Fancy: $5,000 (Couple) $3,000 (Individual)
Classic: $3,500 (Couple); $2,200 (Individual)
Classic Jr.: $2,800 (Couple); $1,500 (Individual)
Insurance Plans
"Covered in Full" Benefit: ~$300 (Couple); ~$225 (Individual)
"Will Only" Plan: $1250 (Couple); $950 (Individual) + Filing Fees ~ ($150)
Amendments and Restatements
Our Prior Clients: $500 (unless more than two meetings, then price below)
Classic: $2,500 (Couple); $1,500 (Individual)
Classic Jr.: $2,000 (Couple); $1,000 (Individual)
---
Insurance Covered Plans
---
For all insurance plans, the property recording, and notary fees are not covered by insurance. The fee structure is as follows:
The property recording fee is

$150 dollars

and

notary fees are $15 per signature.

In most cases, those fees total

$225 for an individual

and

$300 for a couple.

If you have a

"will only"

plan you will also pay the fee to add a trust which is

$1250 for a couple

and

$950 for an individual.
---
Amendments and Restatements
---
The fee for an amendment or restatement of an estate plan drafted by Summerall Law is $500 unless it takes more than two meetings, and then we go to the prices below.
Classic:

$2,500 for a couple

and

$1,500 for an individual.

Classic Jr. :

$2,000 for a couple

and

$1,000 for an individual.

(second meeting with junior attorney)
---
More Information About Plan Options
---
Classic Plan
All Estate Plan packages include a Living Trust, Certificate of Trust, Deed, Will(s), Power of Attorney(s), Advance Health Care Directive(s), Guardianship Nomination, and Power of Attorney over Child Care, and a Caregiver Affidavit. Recording of the deed for your residence and Special Needs Trusts are included at no additional fee if needed.
Classic Estate Plan Jr.
This is the same as the Classic Plan, but the client opts to do their final meeting with an associate attorney, which reduces the price.
Fancy Plans
This plan is for people who have lots of stuff and need some extra documents to make their plan work. This plan includes the documents in the Classic Plan, plus a transmutation agreement (Post-Marital Agreement), a co-habitation agreement, as many deeds as you need, separate property trusts (for inherited property or property you are leaving directly to someone other than your spouse), and any othe trusts or sub-trusts you need.
This is best for clients who:
Have inherited property who they want to leave to someone other than their spouse

Own many pieces of real property

Have separate property and community property and we need to clear up who owns what

Own property with a non-marital partner

Ex: We got married later in life. I have some property I owned individually, I want to leave that to my child. My spouse and I own some property together, but we are not both on title, I have a rental, he has a rental, and he has a mom who needs a separate sub-trust for her care. We want restrictions on what the surviving spouse can do with the property we own together.
---
---
Probate Administration
Overview
---
Probate fees are set by statute and most attorneys will only work for statutory fees outlined below. We will negotiate from other attorneys/statutory rates for simple estates as follows:
One Beneficiary=

$7500 plus costs

Large Estate Maximum Fees =

$20,000 max

(i.e. arrange for a maximum fee of $20,000 on million dollar probate)
Simple Administration =

10% off statutory fees
What is a Simple Estate?
A simple estate means the beneficairies and service providers all worked together to make for a more efficient process. We will determine if your estate was simple, at the end of the process, based on the administrator and families compliance with the following:
No contests

to will, trust, executor, distribution, or accounting.
Worked with one of our

approved real estate agents

or an agent that complies with our work terms.
Worked with one of our

approved accountants

or an accoutnant that complies with our work terms.
Client collected all financial assets.
There are also costs to a probate which include filing fees, probate referee fees, and publication fees. The fees usually that total about twenty-five hundred dollars ($2,500) per case. These are paid directly to the court.
---
The Math
---
California law says that the way to calculate the compensation the attorney receives for their time on a probate administration is based on the following fee schedule: (1) Four percent on the first one hundred thousand dollars ($100,000). (2) Three percent on the next one hundred thousand dollars ($100,000). (3) Two percent on the next eight hundred thousand dollars ($800,000). (4) One percent on the next nine million dollars ($9,000,000). (5) One-half of 1 percent on the next fifteen million dollars ($15,000,000).
---
The Bottom Line
---
In simplified terms this means, for a million-dollar estate, the probate fees and costs will be approximately $26,000. For a five hundred-thousand-dollar estate, the fees and costs will be approximately $15,500. These fees are paid by the estate and the personal representative does not need to have funds to start a case.
---
Quick Probate Fees and Costs Calculation
---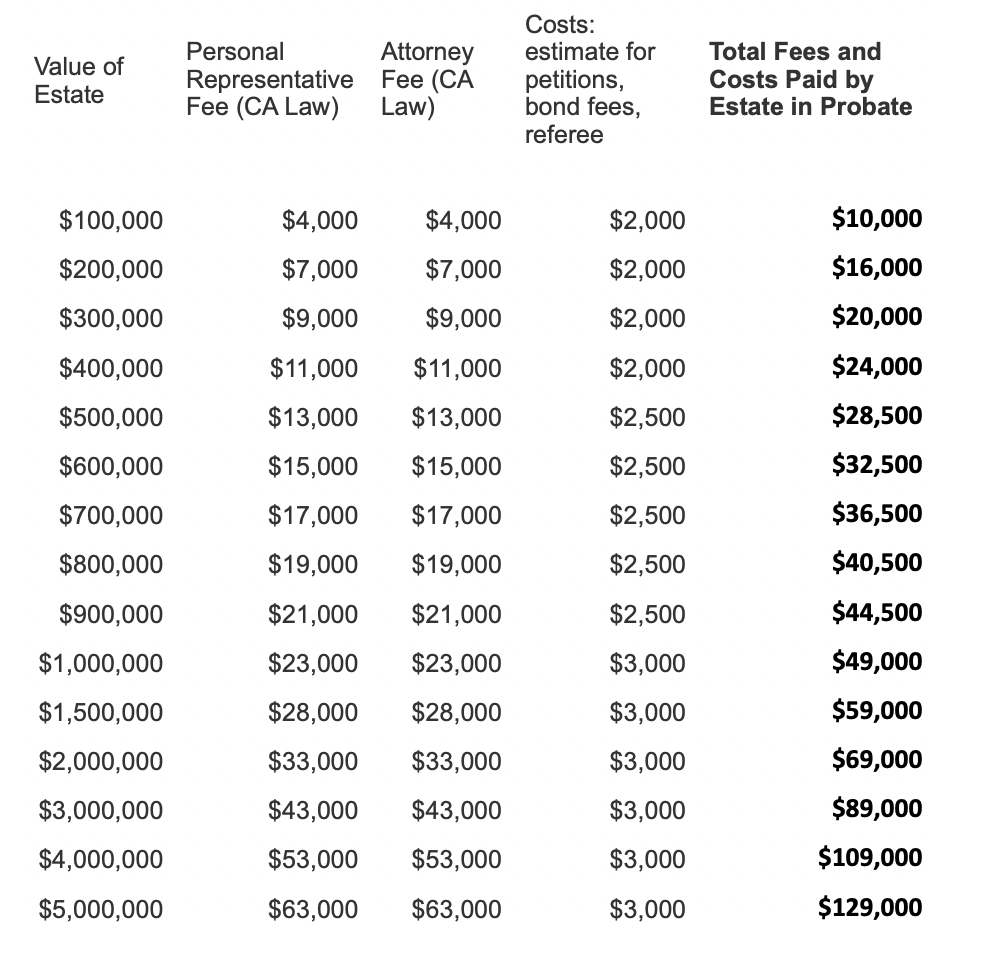 ---
---
Trust Administration
Administration Fees
---
Our average trust administration fee is $4,000. For single beneficairy or cash only administrations, we have flat-fee service of $2,500. We divide work between attorneys and paralegals to keep the total fee low. Total fees are based on the complexity of your matter, including the type of assets involved and number of beneficiaries.
---
---